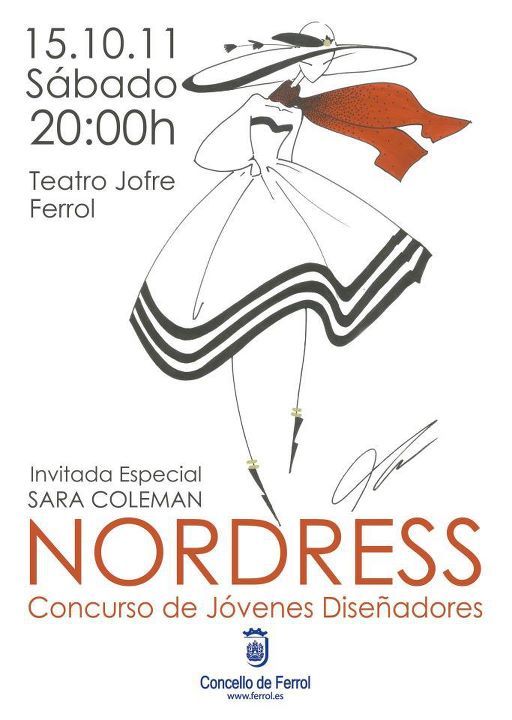 Aqui esta el cartel del concurso de Jovenes diseñadores del cual soy finalista :). El desfile tendra lugar este sabado 15 a las 20:00 en el Teatro Jofre de Ferrol. Mi colección, de la que pronto vereis fotos aqui, se llama "Jimena tiene un arma" y esta inspirada en Jimena Díaz, esposa del Cid Campeador, por lo que la colección se caracteriza por tejidos medievales que contrastan con la sensualidad de las prendas y con el resultado final. Espero que todo salga bien y que, por supuesto, os guste!

____

Here is the contest for young designers of which I am a finalist :). The parade will take place this Saturday 15 at 20:00 at Jofre Theatre in Ferrol. My collection, which soon will see photos here, is called "Jimena has a gun" and is inspired by Jimena Diaz, wife of El Cid, so the collection is characterized by medieval fabrics whose are in contrast with the garments sensuality and with the end result. I hope everything goes well and, of course, you like it!

____

Aqui esta o cartel do concurso de Xovenes Deseñadores do cal eu son finalista :). O desfile tera lugar este sabado 15 as 20:00 no teatro Jofre de Ferrol. A miña colecion, da que cedo veredes fotos aqui, chamase "Ximena ten un arma" e esta inspirada en Ximena Diaz, esposa do Cid, polo que a colecion caracterizase por teas medievais que contrastan ca sensualidade das prendas e co resultado final. Espero que todo saia ben e, sobre todo, que vos guste!